March 25, 2016 This post was updated to correct the label on the photograph.
In honor of the death of the last
WWI
veteran,
Frank Woodruff Buckles
on February 27, 2011, I found it fitting to honor the military service of family members who were also veterans of
WWI
.
Currently, the only known veteran of
WWI
is Robert Edwin McDonald, my great grand uncle. Robert was born in Clarion, Clarion County, Pennsylvania on Feb 1, 1899 the third child born to Robert Alphonsus McDonald and Winifred Agnes O'Neill. Additional work in the research process should reveal more specific details about Robert's military service.
Virginia Dorothy McDonald Geary, my first cousin 3x removed, recalls her Robert Edwin McDonald, her first cousin, coming to visit her parents, Ambrose Aloysius McDonald and Gertrude Anna O'Neill, in his military uniform after returning from the war when she was five years old at their home in Pittsburgh, Pennsylvania. It should be noted here that Virginia's father Ambrose Aloysius McDonald was the younger brother of Robert's father Robert Alphonsus McDonald and Virgina's mother Gertrude Anna O'Neill was the younger sister of Robert's mother Winifred Agnes O'Neill. This made Robert Edwin McDonald and Virginia Dorothy McDonald Geary double paternal first cousins.
With the known dates of Virginia's birth and Robert's birth, Robert would have returned home from military service sometime in 1919 when he was about 20 years old. Virginia also indicates that he was one of the soldiers who suffered from the effects of
poison gas
during the war.
After returning home from his military service Robert visited with other family members who were living on the North Side of Pittsburgh at that time. Robert relocated to California shortly after arriving back in the Unites States and never returned to Pennsylvania after moving. It is unknown if Robert moved due to continuing military service or personal preference. His younger sister, Madeline Gertrude McDonald, traveled to California to visit him during her lifetime.
The details of Robert's life in California are unknown at this time.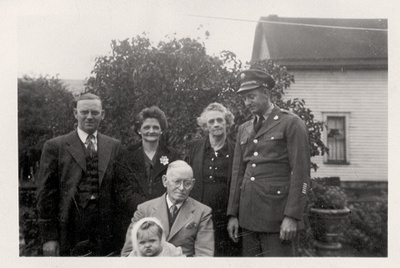 Three Generations of the McDonald Family
Three Generations of McDonald family members photographed:
Back: Loraine Anthony McDonald, [my great grandfather], Frances Philomena Selker [my great grandmother], Winifred Agnes O'Neill [my 2nd great grandmother], Robert Edwin McDonald [my great grand uncle].
Front: Robert Alphonsus McDonald [my 2nd great grandfather] most likely holding Francis Winifred McDonald [my great aunt].
The location of the photograph is not known. Loraine Anthony McDonald and Frances Philomena Selker were living in Clarion County, Pennsylvania in the early 1920's. This photo could have been taken in Clarion at the home of Robert's parents or the home of his older brother Loraine Anthony McDonald.
This photograph would have been taken after March 18, 1920 for Francis Winifred McDonald to be included in the picture.
This photograph was included in the Frances Philomena Selker Collection. Frances Philomena Guth appears to have passed the photographs down to her daughter Frances Philomena Selker. Frances' daughter Mary Eugenia McDonald ended up with her mother's photo collections which is time were handed down to me. Photographer Unknown. Editing and digital restoration by Michelle M. Murosky.