The five generation pedigree chart below showcases Mary Eugenia McDonald with four generations of her direct ancestors. The color coding is used to group the birthplaces of the featured individuals. If the birth location is unknown black has been used. This format has been adapted from the
original version
shared by genealogist J. Paul Hawthorne.
The oldest ancestor featured in the chart is Anton Guth born 1792 in Untersimonwald, Margraviate of Baden, Holy Roman Empire. His 2nd great-grand daughter Mary Eugenia McDonald was born 130 years later on January 22, 1922 in Strattanville, Clarion County, Pennsylvania.
As shown from the chart the ancestors of Mary Eugenia McDonald arrived over several generations.
An additional chart is also shown that includes the birth and death dates for the featured individuals.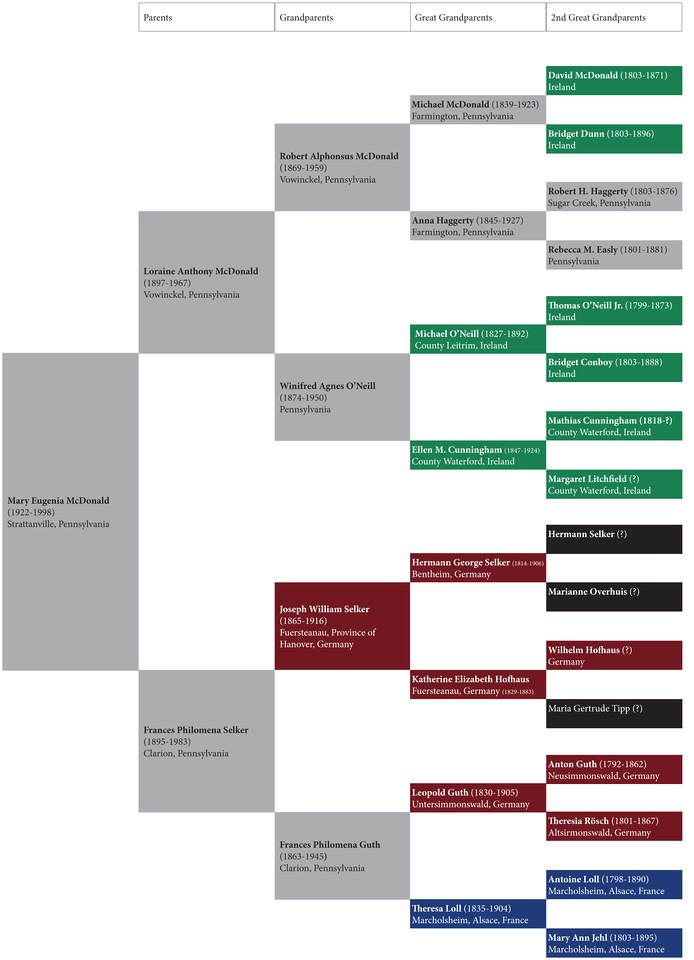 Mary Eugenia McDonald
Five Generation Pedigree Chart
Mary Eugenia McDonald is my paternal grandmother. The individuals featured in the chart are my direct ancestors.