Cyril Clair McDonald was one of ten children born to Robert Alphonsus McDonald and Winifred Agnes O'Neill. He was born 07 June 1909 in Pittsburgh, Allegheny County, Pennsylvania.
He was recorded in the 1910 United States Federal Census in his parents household at 914 Ramsey Avenue, age 11/12. The 1920 United States Federal Census recorded the family living at 221 South Street. The census indicated that Cyril was attending school.
This photo of Cyril was included in the Frances Philomena Selker Collection. Frances Philomena Selker was the wife of Cyril's brother Loraine. Cyril signed his name on the photograph and recorded the date as 1929. He would have been 20 in the photograph and may have been attending college at the time. The 1940 United States Federal Census indicates that Cyril had completed 2 years of college.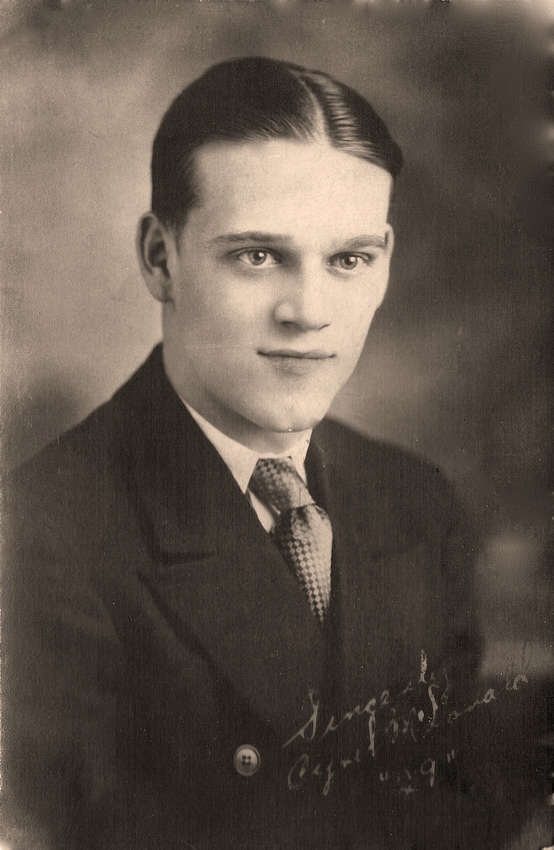 In the 1930 United States Federal Census Cyril was enumerated in his parents household at 3044 Landis Street. Cyril was no longer attending school and was not recorded as working. The census indicated he was able to speak and write.
In 1934 Cyril married his wife Ruth Virginia Clark. Ruth was from Clarion County, Pennsylvania. The couple likely met when Cyril was in Clarion with his parents. Robert and Winifred owned a farm outside of Clarion.
In 1935, as recorded in the 1940 United States Federal Census, Cyril, his wife Ruth and their oldest daughter Helen Lee were living in living in Clarion Township, Clarion County on a farm.
In 1940 the family was living in the same house. In addition to Cyril, Ruth and Helen children Charles Edwin, Kenneth Ray and Michael Richard had joined the household. The couple was renting the house valued at $10. Cyril was working as a farm laborer. Cyril recorded that he had worked 60 hours during the week of March 24-30, 1940.
Family stories have indicated that the Cyril and Ruth lived on the farm that Cyril's parents Robert and Winifred owned.
The photo was found in the Frances Philomena Selker Collection. Photographer Unknown. Editing and digital restoration by Michelle M. Murosky.
Cyril Clair McDonald is my second great uncle. He is the brother of Loraine Anthony McDonald my great grandfather. Loraine's daughter Mary Eugenia McDonald is paternal grandmother.
References:
Ancestry.com. 1910 United States Federal Census [database on-line]. Provo, UT, USA: Ancestry.com Operations Inc, 2006.

Year:

1910

; Census Place:

Wilkinsburg Ward 2, Allegheny, Pennsylvania

; Roll:

T624_1298

; Page:

19B

; Enumeration District:

0273

; FHL microfilm:

1375311 Record for

Robert Ramedonald

Ancestry.com.

1920 United States Federal Census

[database on-line]. Provo, UT, USA: Ancestry.com Operations Inc, 2010. Images reproduced by FamilySearch.

Year:

1920

; Census Place:

Clarion, Clarion, Pennsylvania

; Roll:

T625_1551

; Page:

14B

; Enumeration District:

60

; Image:

780 Record for

R A Mc Donald

Ancestry.com.

1930 United States Federal Census

[database on-line]. Provo, UT, USA: Ancestry.com Operations Inc, 2002.

Year:

1930

; Census Place:

Pittsburgh, Allegheny, Pennsylvania

; Roll:

1983

; Page:

25A

; Enumeration District:

0333

; Image:

51.0

; FHL microfilm:

2341717 Record for Robert A Mcdonald.
Ancestry.com. 1940 United States Federal Census [database on-line]. Provo, UT, USA: Ancestry.com Operations, Inc., 2012. Year: 1940

; Census Place:

Clarion, Clarion, Pennsylvania

; Roll:

T627_3468

; Page:

18B

; Enumeration District:

16-7.

Record for Cyril McDonald