This is the first post in the J.W. Selker Series. The series will be focused on Joseph William Selker's return trip to Germany in 1906. This would be Joseph William's first and only trip to Germany after departing 21 years prior.
Joseph William Selker, the youngest son of Hermann George Selker and Katherine Elizabeth Hofhaus, was born October 8, 1865 in Fürstenau, Province of Hanover, Germany. Historical records indicate that after receiving his early education in Germany Joseph William studied the trade of cigar-making. When he was 20 years old he set his sights on the future and opted to leave Germany. On October 31, 1885 he departed from Rotterdam, Holland in route to the United States.
After arriving Joseph William initially settled in Pittsburgh, Pennsylvania where he worked as an apprentice cigar maker. Joseph relocated to Clarion, Pennsylvania in March of 1887. He initially worked for Michael Zacherl as a cigar maker. Joseph William opened his own cigar manufacturing business in April of 1889.
Joseph William married Frances Philomena Guth on November 4, 1890 at the Immaculate Conception Church in Clarion, Clarion County, Pennsylvania. Frances was the daughter of a well-known Clarion businessman. Leopold Guth, a German immigrant, was a jeweler and watchmaker. Her mother, Theresa Loll, was an Alsatian immigrant. Frances was born February 25, 1863 in Clarion, Clarion County, Pennsylvania.
Joseph William Selker & Frances Philomena Guth
Joseph was naturalized as a United States citizen on August 22, 1892. In 1898 he built the large Selker family home located at 242 Main Street. The family home was built next door to the cigar factory located at 248 Main Street on the corner of Main and South 3rd Avenue.
Left: Joseph W. Selker Cigar Right: Joseph W. Selker Home
248 & 242 Main Street, Clarion, PA
Over the years Joseph remained in contact with his family in Germany. On January 25, 1906 Joseph applied for a United States passport. The application was stamped February 8, 1906. After living in Pennsylvania for twenty one years - Joseph William was making plans to return home.
Joseph William Selker
Passport Application - All pages
The passport application written in his own hand indicates that Joseph was a naturalized United States citizen. He indicated he was born October 8, 1865 in Feurstenau, Hanover, Germany. (Note this spelling is a variation of Fürstenau) He traveled by steamship from Rotterdam, Holland on October 31, 1885. The application indicates that he intended to go abroad within 8 months and then return to the United States.
The passport application also included a physical description of Joseph William. He was 5' 7" tall. He had a fair complexion, blue eyes and dark hair.
A photograph of Joseph William Selker shows that the physical description to be quite accurate: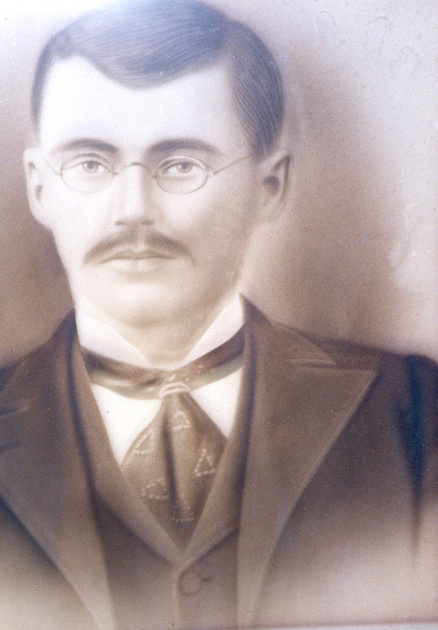 Joseph William Selker
Joseph William Selker and Frances Philomena Guth are my 2nd great grandparents. Their daughter Frances Philomena Selker is my great grandmother. My paternal grandmother, Mary Eugenia McDonald, is the daughter of Frances Philomena Selker.
References:
"Pennsylvania, County Marriages, 1885-1950," index and images, FamilySearch (https://familysearch.org/ark:/61903/1:1:VFWG-R2W : accessed 28 March 2015), Joseph William Selker and Frances Philomena Guth, 04 Nov 1890; citing Marriage, Pennsylvania, county courthouses, Pennsylvania; FHL microfilm 1,315,270.
John Woolf Jordan, LL.D., Genealogical and personal history of the Allegheny Valley Pennsylvania, III vols. (New York: Lewis Historical Publishing Company, 1913), Page 839: Selker
Ancestry.com. U.S. Passport Applications, 1795-1925 [database on-line]. Provo, UT, USA: Ancestry.com Operations, Inc., 2007.