My great grandparents, Anthony Harry Murosky, Jr. and Helen Tillie Bukowski on their wedding day September 3, 1917.

The couple was married at St. Stanislaus Church in Erie, Erie County, Pennsylvania. Helen was 16 and Anthony was 22.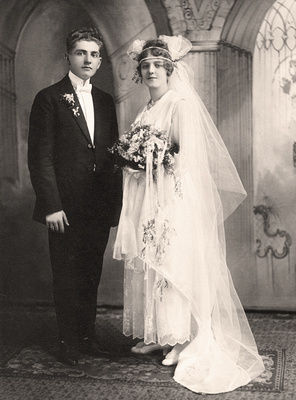 Anthony the son of a Lithuanian immigrant father was born October 11, 1895 in Forest City, Susquehanna County, Pennsylvania. He traveled to Erie, Pennsylvania in search of work where he met Helen, the daughter of Polish immigrants.
For their honeymoon the couple traveled to Forest City by train to spend time with Anthony's family. The young couple lived in the attic of Helen's parents house when they were first married.