Helen Tillie Bukowski photographed with her sister-in-law Theresa Filipkowski. Theresa married John Frank Bukowski, one of Helen's older brothers. The ladies were dressed up to attend the wedding of Theresa's son Raymond H. Bukowski to Veronica A. Karpinski on June 6, 1942.
The photograph was taken in Erie, Erie County, Pennsylvania. The exact location of the photograph is unknown. When photographed Helen was 41 years old and Theresa was 44 years old.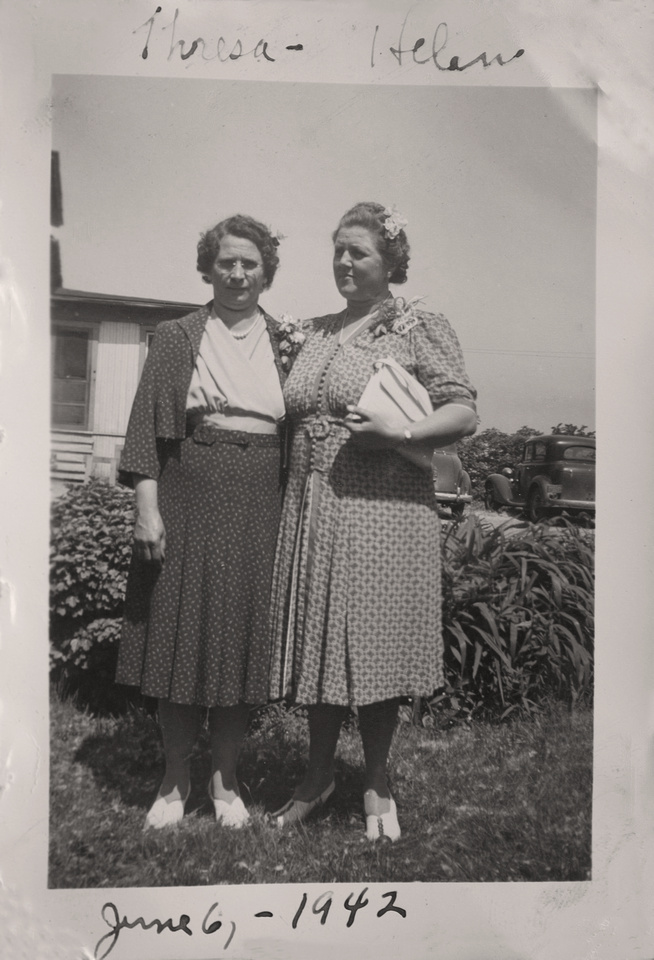 Theresa Filipkowski & Helen Tillie Bukowski
The photograph was included in the Helen Tillie Bukowski Collection. Helen likely recorded the names and date on the photograph. Photographer Unknown. Editing and digital restoration by Michelle M. Murosky.
Helen Tillie Bukowski is my great grandmother. She married Anthony Harry Murosky, Jr. my great grandfather. Their son Arthur Murosky is my paternal grandfather. Theresa Filipkowski is my 2nd Great Aunt by marriage. Her husband John Frank Bukowski is my 2nd great uncle.